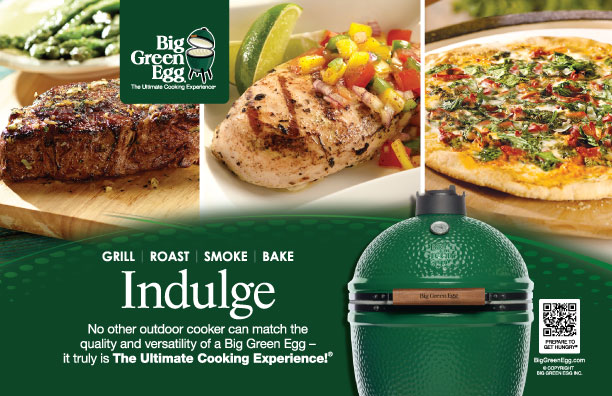 No other outdoor cooker can match the quality and versatility of a Big Green Egg. Grilling, Roasting, Baking or Smoking - it truly is The Ultimate Cooking Experience!® 
Bromwell's is a proud dealer of the Big Green Egg, a high-quality ceramic kamado-style charcoal grill. The Big Green Egg is a blend of ancient tradition, modern technology, and proprietary processes, resulting in a far superior product that is stronger, more durable and provides better heat insulation than any other outdoor cooker on the market.
The Big Green Egg Allows for Precise Temperature Control! 
Grill, smoke and bake on your EGG at exact temperatures by easily adjusting the patented air flow systems. You have total control over temperature at your fingertips, maintaining accuracy within a few degrees! The Made in USA temperature gauge provides precise readings to 750°F/ 400°C. Many indoor ovens cannot match the accuracy of the EGG's temperature control!
Safer to Use 
The Big Green Egg is extremely safe to use as the ceramic surface doesn't get as hot as a metal grill, and the heat source is protected within a ceramic fire box inside the base.
Easy Clean Up 
The Big Green Egg features a professional grade stainless steel cooking grid and an elegant green exterior with a lifetime glaze that maintains its good looks and wipes clean easily without chemical cleaners. Inside, residual heat burns away any grease build-up – just like a self-cleaning oven – and ash build-up is minimal.