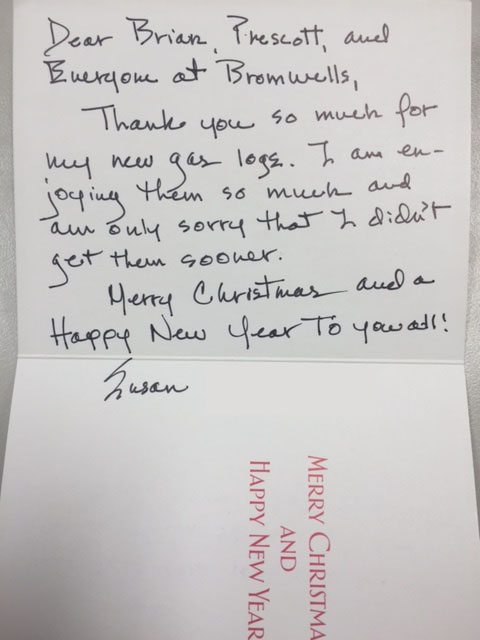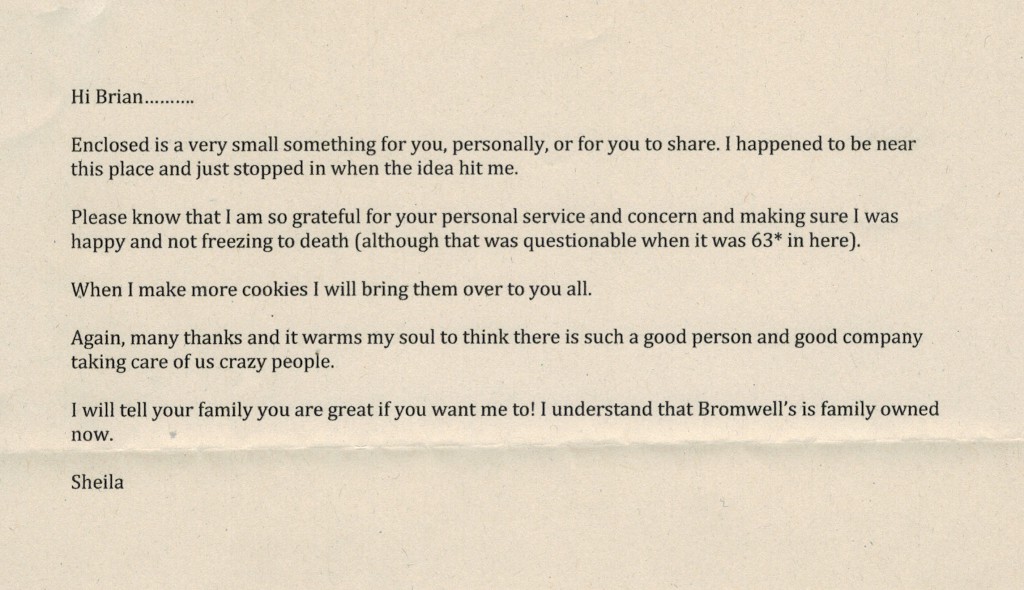 Description of Work: Helped us pick out a gas log set, recommended a good chimney inspector, installed the logs and provided good followup.
Comments: They were very friendly, reliable and professional. After installation, we thought our pilot light might be too high and they sent someone out in a snow storm to adjust it. Very good service.
VF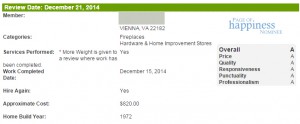 Description of Work: The rear firewall/brick panel in the fireplace of our Townhouse fireplace was visibly cracked.  We replaced four panels: the left, right, bottom, and rear refactory/brick panels of our Townhouse fireplace — 30 years old.  In the end, we essentially ended up with a brand new fireplace. There's peace-of-mind knowing your Townhouse fireplace — which doesn't have any real brick and mortar structure to it — is safe and sound.
Comments: The business is family owned and operated: son (Brian) and father (Rich). Our goal was a wood-burning insert. After two home visits and measurements, and research by Bromwell's, an inspection-grade insert wasn't commercially available for our Townhouse fireplace – dimensions being short by inches.  Our $2,000 deposit was promptly refunded, after which we embarked on upgrading our fireplace panels.
Throughout the process, Brian was in continual dialogue as to ordering, installation, and post-install feedback. I might add we were NOT a high-priced customer, and I believe our fireplace maintenance job took significantly more time and interface than a high-end upgrade and installation. Bromwell's is extremely busy installing gas-driven fireplaces during the late Fall and early Winter timeframe – during our experience. (Note: there's no gas service to my neighborhood, or I'd have a Bromwell's gas-driven fireplace right now as I type.) However we never knew the difference. We were treated as if we were buying the moon from them.
I recommend them highly for any and all fireplace needs.
JR

Description of Work: Helped me fix my pilot light for my gas fireplace.
Comments: I had bought a gas fireplace insert from Bromwell's six years ago.  For the first time, this year, the pilot light went out, and I did not know how to safely relight it.  Monica at Bromwell's emailed me the manual for the specific model of gas fireplace that I have.  When the recommended approach did not work, I called back to schedule a service call.  Since it is Christmas time, and therefore Bromwell's busy season, Brian told me that they would not be able to get to my house until January.  He offered to have me stop by the show room to get a quick tutorial about how to fix it myself.  This made all the difference, as I learned that a tiny change would make it work.  I appreciated their timely responsiveness as well as their willingness to forego a costly "repair" opportunity.
GR

Description of Work: Sold me a fireplace and provided information on how to properly set up my gas fireplace and make it as beautiful as it should have been if installer finisher set up correctly.
Comments: This is the place to go if you want quality product at a great price, knowledgeable people who know their products very well and take the time to explain them to you including your various options.  I went to a number of places that had higher prices, less choices and little specific familiarity with the products and the finer points of them.
They are very customer oriented people and will do what it takes to make your fireplace application work.  For example, when my contractor did a sloppy job finishing the final dressing portion install of the fireplace I purchased from Bromwell's, I took a trip over to their store.  One of their staff took almost 45 minutes explaining what I needed to do to make the fireplace look as nice as it should and then, before I left, he said,"if you have problems give me a call and I'll stop by and help you out".  Not a service call, just an offer to help me out so that I was completely satisfied and maximized the beauty of the product.
Every time I have been back for something they immediately approached me to address my need, were very courteous and I was done and out in minutes.  I walked out very pleased.  Go there and work with them and you will too. 
DB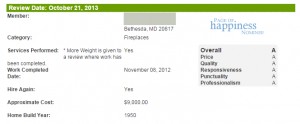 Description of Work: Help me choose and then they installed 2 gas fireplaces
Comments: Right from the start, the staff was outstanding.  We had problems getting permits from the gas company and Bromwell's help me navigate through the process.  They even worked with the company installing my generator so I had everything completed  in time for the holidays.
They are responsive and they know their stuff.  Everyone who came out to speak with me or work on my house knew product and they were able to answer all of my questions.
We LOVE our fireplaces and find that they even save us money on heating bills.  We have had many compliments on the change the fireplaces have made to the look and feel of our home. And since I am not very good at decorating, you can bet it was the Bromwell staff that picked the units that look so beautiful in our house.
I just signed an annual maintenance contract with them to make sure our fireplaces continue to provide pleasure and warmth for many years to come.
Thank you Bromwell Team 
CK

Description of Work: Installed two gas / log conversion from wood burning fireplace. Also installed one set of fireplace doors.
Comments: The staff from showroom to installers were helpful and obliging. Installation price was lower than competitors. 
PD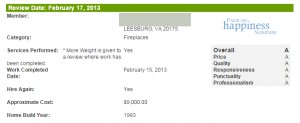 Description of Work: We had a linear gas fireplace installed.  We purchased the fireplace unit from Bromwells and they installed the fireplace (including gas hookup).  Another contractor removed our old woodburning fireplace and did the framing for the unit.
Comments: We could not be happier with our new gas fireplace or our experience with Bromwells. We tried working with two Virginia gas fireplace dealers, and Bromwell's was by far the better choice. They went out of their way to answer all of our questions about the different gas fireplace brands and models on the market and spent a great deal of time showing us the different features available to make sure we got what we wanted. They delivered and installed our fireplace (a Montigo P52) exactly when they said they would and answered all of our questions about the gas fireplace after the installation. We have had a lot of work done on our house and have worked with many contractors and vendors, I would not hesitate to recommend Bromwells after this experience.  In addiition to being extremely responsive, their price was considerably less than another dealer. 
RM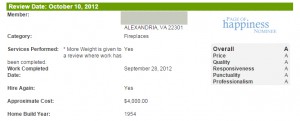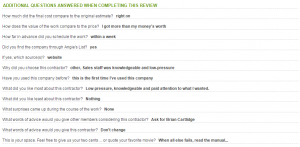 Description of Work: Bromwell's coordinated with the City of Alexandria to pull the necessary permit.  The Bromwell's contactor installed both the gas line for the gas fireplace insert and the insert.
Comments: My experience with Bromwell's was extremely positive from start to finish. It began in November 2011, when I went to the store and first met Brian C. Brian has a low-key sales approach and really took the time to listen to my interests and priorities.  I had done some research ahead of time, and after speaking with him, he struck me as very knowledgeable about his products.  This was particularly apparent when it came time to discuss sizes and features.  While there were various features and specs, he educated me regarding the one that was probably the most important.  Interestingly, the larger fireplaces are not much more than the smaller model I ended up purchasing; however, Brian pointed out that while a larger viewing area is always considered more desirable, the heat output must also be factored in.  He informed me that it even with a 50% turn-down capability, it is still very easy to overheat a room with a fireplace that is too large.  I had another major home improvement project in the works and decided to defer the gas fireplace until a later date.
In August 2012, Brian sent me a polite follow-up e-mail to let me know they were having a Summer promotion and to see if I was intrerested in proceeding.  I was indeed interested, but also distracted by some pressing famliy matters.  I explained my situation to Brian and I was impressed because he was highly responsive, yet did not make me feel pressured.  He sent me all the information I requested, including the original quotes from Nov11, so that I could determine the value of the promotion.
Additionally, Brian had remembered that I was concerned with having a very "clean look", and he recommended two fireplace inserts for my consideration.  Based on his recommendation, I ultimately selected a "smaller" unit and could not be happier.  It am extremely happy with both the clean look of the fireplace insert and its functionality.  I have run the fireplace insert for several hours and am extremely pleased with both the look and the way it easily heats a good part of my house.
On 22Sep12, when I decided to make the purchase, I explained to Brian that like most of the people in the DC Metro area, since I work, I have to take vacation for things that require me to be home during the day.  Brian put me in touch with Prescott, who contacted me on Monday and worked with me to schedule installation times that minimized the need for me to take time off from work.  (I would note that it helps to do this sort of project before the peak season, when quite understandably that they get busy and the more desireable times get taken).
After I ordered the insert, Bromwell's took a 50% down payment for the fireplace insert and gas line/finreplace insert installation charge.  After Prescott pulled the permit and scheduled the gas line installation for late-afternoon on Tuesday, 25Sep12, he re-contacted me later on Monday to give me an update.  I contacted the electrician they recommended and found him to be flexible and responsive, and that work was performed on Thursday, 27Sep12.  On Wednesday, Prescott contacted me again to coordinate the scheduling the first inspection by the City of Alexandria and the final installation.  Prescott arranged for their contractors to arrive after the inspector, who gave me a window of 12pm-2pm on Friday, 28Sep12.  Bromwell's installers were done in about 90 minutes.  All of the contractors arrived on time, performed their work efficiently and cleaned up after they were done. 
AG